"March of the nation" in Kiev, torches, flags, and pyrotechnics near the Pechersk Lavra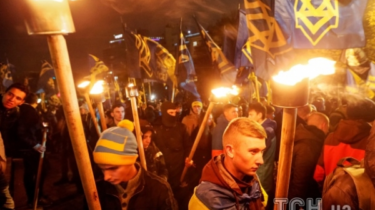 "March of the nation" in Kiev, torches, flags, and pyrotechnics near the Pechersk Lavra
Kiev
Today, 00:56
1 of 13

© Reuters

1 of 13

© Reuters

1 of 13

© Reuters

1 of 13

© Reuters

1 of 13

© Reuters

1 of 13

© Reuters

1 of 13

© Reuters

1 of 13

© Reuters

1 of 13

© Reuters

1 of 13

© Reuters

1 of 13

© Reuters

1 of 13

© Reuters

1 of 13

© Reuters
© Reuters

© Reuters

© Reuters

© Reuters

© Reuters

© Reuters

© Reuters

© Reuters

© Reuters

© Reuters

© Reuters

© Reuters

© Reuters
In a large-scale event was attended by thousands of people.
In Kiev held a massive torch "March of the nation", organized right-wing movements.
This year in March prinimayutsya representatives of the "Azov", the "Right sector" volunteers ATO, public organization "C14", among the marchers were children. The organizers say that its essence is to show the unity and strength of the people, says TSN.
The marchers marched from the monument of the Motherland and passed through the center of the capital on Hrushevsky street and the Lavra. Near the Kiev-Pechersk Lavra activists used pyrotechnics, several firecrackers exploded near the offices of the Russian "Sberbank".
The March of the nation ended with a rally and prayer at the Sofia square.
See also: the Day of defender of Ukraine. As it was
Recall, 14 October Ukraine celebrates the Day of defender. In your country are celebrations. In particular, the celebration began in Kiev prayer service for the Ukrainian defenders. This was followed by the speech of the President of Petro Poroshenko and the solemn acceptance of the oath of allegiance to Ukraine by the students of the military Lyceum named Bohun. Then the activists of "Freedom" started "March of Glory of the Heroes" from the monument to Taras Shevchenko to St. Michael's square.
Flags and torches: the activists gathered in Central Kiev on March of the patriots
TSN. 19:30
Yesterday, 21:44
March of the patriots organized by civil case of Azov and other forces that marched from the Museum of history of Ukraine during world war II – on the Grushevsky street – to the city centre of the capital. The organizers have promised twenty thousand participants. The correspondent TSN live talks about the situation of the scene.
Add to favourites
Comments
comments