Saakashvili called the shameful position of the Georgian delegation to the PACE on Ukraine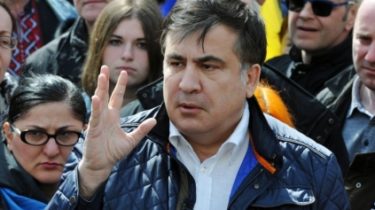 Saakashvili called the shameful position of the Georgian delegation to the PACE on Ukraine
© UNIAN
According to him, it doesn't reflect the views in Georgian society.
The Governor of Odessa region, ex-President of Georgia Mikheil Saakashvili believes the shame of the refusal of the Georgian delegation to vote for the PACE resolution on Ukraine.
The corresponding statement posted on his page in Facebook.
Read also: I will not leave the battlefield. Saakashvili commented on the information about the return to Georgia
"The fact that the Georgian delegation did not vote for sanctions against Russia and did not support the Ukraine is a shame and a disgrace," said the Governor.
He believes this position is shameful, it does not reflect the opinion of the Georgian society. Saakashvili stressed that it will be a black spot in the history of Georgia.
"I have not seen a single Georgian who would not openly support Ukraine", – said Saakashvili.
See photos: Georgians ignored the mass of Pope Francis at the stadium
Convinced Saakashvili, the current Georgian government is similar to power of Viktor Yanukovych in Ukraine.
"And just as Yanukovych did not last, I am sure that Ivanishvili also will not last," he predicts.
See also: In the Parliament of Georgia passed the three parties
We will remind, the Georgian delegation has not supported the PACE resolution on Ukraine. This is evidenced by the results of the vote published on the PACE website. The parliamentary Assembly of the Council of Europe adopted a resolution, which became victorious for Ukraine and bad for Russia.
The resolutions condemned the illegal "elections" in Crimea, the Duma of the Russian Federation, the results are considered insignificant, and the PACE does not recognize them as four districts of the Crimea and its inclusion in the constituency, which casts doubt on the legitimacy of the Duma. Also, the parliamentary Assembly of the Council of Europe considers it impossible to hold elections in the Donbass, despite the requirements of the Minsk agreements.
Comments
comments