The Kremlin is preparing the Russians for nuclear war with the United States – the media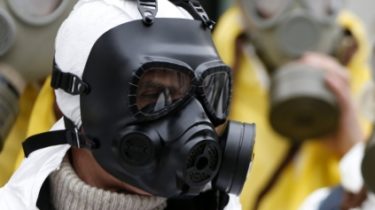 The Kremlin is preparing the Russians for nuclear war with the United States – the media
© Reuters
An American journalist working in Moscow, shared his observations, as the Kremlin escalate the situation surrounding the confrontation with the United States.
The leadership of Russia gives the impression that the impending large-scale war with the United States, including with application of nuclear weapons.
To such conclusion the journalist of TV channel ABC News in Moscow, Patrick Revell, who has collected seven of the proof of this version, writes UKRINFORM.
Although almost none of the experts thinks that the Kremlin is actually preparing for a military conflict with the United States, there are alarming signs from Moscow, which create the impression that war was imminent, is referred to in the material published on the website of TV channel on Friday, October 14.
See also: Assad told the approaching third world war
In particular, against the background of tensions in Russian-American relations because of the Syrian issue presenter Dmitry Kiselev told how three Russian missile frigate was headed to Syria to avoid possible air strikes of the US on Syrian military targets, hinting that a missile capable of carrying nuclear warheads.
State-controlled Russian media have not held yourself back. They conducted a survey of Russians, whether they are ready for nuclear war. If this happens, everyone should know where the shelter, the author cites the Russian TV channel NTV.
Nuclear blackmail, the war in Syria, punishment for war crimes: Russia and the United States began the cold war
TSN. Week
9 Oct, 19:47
Add to favourites
This week was especially busy with discussions between the US and Russia. Blatant nuclear blackmail by Russia, the real danger of clashes between the Americans and the Russians in Syria, Putin's ultimatums, and the promise of the state Department to find and punish the perpetrators of war crimes.
Further proof of the alleged preparation of Russia to the war was the holding of large-scale civil defence exercises with the involvement of 40 million people across the country, which involve actions during a nuclear war. "Worrying sign" is also called public clarification of the Ministry of defense of Russia about how the country will function during the war and which state bodies will take over the command.
Also read: War between Russia and NATO: how it will
This week, Russia has deployed missiles capable of carrying nuclear warheads, in Kaliningrad region in response to the "missile shield of the USA in Eastern Europe." The deployment happened much sooner than was expected, according to analysts, is connected with desire of the Kremlin saber-rattling amid the conflict in Syria.
Russia also this week conducted a series of tests of Intercontinental ballistic missiles, launching three missiles a day, including from submarines in the Pacific. At the same time, the Russian TV channel NTV has warned people about the need to find the nearest fallout shelter.
Comments
comments