In the Ukrainian interior Ministry responsible for the murder of "Motorola" lay on his accomplices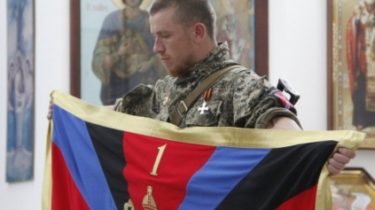 In the Ukrainian interior Ministry responsible for the murder of "Motorola" lay on his accomplices
© Elena Pavlova Vkontakte
The SBU and the interior Ministry confirmed the death of the gunman.
The security service of Ukraine and Ministry of internal Affairs of Ukraine confirmed the death of one of the leaders of the group "DNR" Arsene Pavlov, nicknamed "Motorola".
"Can you confirm the information, which they say now the media about the murder of Arsen Pavlov. I can confirm that the man who committed crimes against the integrity of Ukraine and in fact was wanted, killed today in a residential building", – said the TV channel "112 Ukraine" the adviser to the head of the SBU Yuriy Tandit.
In the Ukrainian interior Ministry responsible for the murder of "Motorola" lay on his accomplices. About this on his page in Facebook wrote to the speaker of the Ministry Artem Shevchenko.
"Terrorist Arseniy "Motorola" Pavlov destroyed. It seems that his own accomplices in the genocidal terrorist international. This is sad, but just the end of all these bastards on our Ukrainian land," – said Shevchenko.
We will remind that one of leaders of fighters of "DNR" Arsene Pavlov, nicknamed "Motorola" was killed on the evening of 16 October. According to preliminary information, it blew up in the Elevator of the house where he lived. In the group "DNR" in the murder of Pavlov blamed "Ukrainian sabotage-reconnaissance group".
Motorola was one of the most cruel militants "DNR". In particular, he shot the prisoner Ukrainian military Igor Branovitskiy. Himself "Motorola" confessed to the murder of the 15 captured military personnel of the Armed forces of Ukraine. In Ukraine he was declared wanted.
Comments
comments