Poroshenko said about the involvement of the "gray cardinals" of Putin in an attempt to capture Kharkov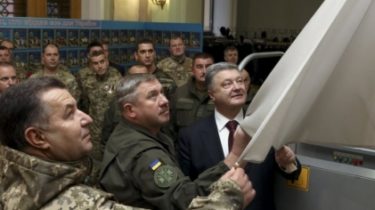 Poroshenko said about the involvement of the "gray cardinals" of Putin in an attempt to capture Kharkov
During the opening of a memorial plaque fighters "Jaguar"© UNIAN
Kharkiv wanted to turn in the unrecognized "people's Republic".
The attempts of the separatist coup in Kharkiv, and plans for the establishment of a "Kharkiv people's Republic" in 2014 was involved in the advisors and aides of Russian President Vladimir Putin. Evidence and proof of this is in the context of criminal proceedings.
On this day, October 15, while in Kharkiv, said the President of Ukraine Petro Poroshenko, UNIAN reports. The head of state reminded that in the Kharkiv regional state administration fighters of special forces "Jaguar" in April 2014 in the Bud strangled the project in Moscow, the so-called "HNR".
"It was here in the building of the Kharkiv regional state administration Ukrainian soldiers "Jaguar" was dealt a mortal blow to the Kremlin's bear-rod, who was looking for and, fortunately, couldn't find the hole in Slobozhanschyna. And these courageous guys in the Bud strangled the project "Kharkiv people's Republic". But if they were, nothing would have happened. They relied on a very powerful moral support of Kharkov patriots, when the riot police for 19 minutes, without bloodshed placed on the floor 67 of the separatists, who have been trained and deployed in order to destabilize the situation" – said Poroshenko.
Read also: Poroshenko not exclude full-scale invasion of Russia to Ukraine
The President stressed that "we already have evidence and obtained in the framework of a criminal investigation evidence, instructions to assistants and advisers of the Russian President was given thousands of "tourists" who came from Russia, what are they going to do, and for what purpose they were here".
Poroshenko together with the Minister of defence Stepan Poltorak, commander of National guard of Ukraine the General-Lieutenant Yuri Allerby, the newly appointed head of the Kharkiv regional state administration Yulia Svetlichnaya opened today in Kharkiv a memorial plaque to the fighters of the special division of nazvanie "Jaguar", 8 April 2014 released the regional state administration building from separatists.
Recall the attempts of the separatists managed to implement in the Donbas, where they created the so-called "DNR and LNR" – the war in the East lasted for two and a half years.
Comments
comments