The military has shared his impressions are transferred to the ATO Poroshenko machines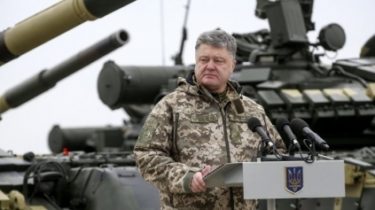 The military has shared his impressions are transferred to the ATO Poroshenko machines
© UNIAN
Fighters happy new materiel.
Tanks, rockets, mortars – all 157 pieces of equipment and weapons publicly handed President Petro Poroshenko for the APU. Of Chuhuiv in Kharkiv region the technique will be delivered to military units, to landfills and to the front, says the story TSN.19:30.
The development of the Nikolaev plant of the APC "knight" enjoys military Dmitry. Armored car converted into communication needs. "This is such APCS in Ukraine was not", – said the soldier.
The President of Ukraine officially transferred to VSU more than hundreds of pieces of equipment and weapons
TSN. 19:30
Yesterday, 20:55
Add to favourites
Combat, transport aircraft, anti-aircraft missile complexes, tanks, infantry fighting vehicles, mortars and more units are now issued only 157 pieces of equipment and weapons. With Chuguev equipment will be delivered to military units, first will break at the site, then went East. There, the President said, last days the situation was tense, therefore, does not preclude a full-scale invasion.
Military Callsign "Red" looked at the row of perfectly painted combat vehicles and remember your APCS in the winter of 2015, when the technique very often fail. "Frost, cold, stopped, our driver climbed under vehicles, cardan came off literally. Snow, all stand, he bare hands it all turns", – said the soldier of the 80th ODSHB.
His sister says, then what about the present equipment only dreamed of. "In the beginning we could only dream about such equipment, now come the latest samples, after repair," says the fighter with a call sign "Metal".
See also: Military aggression of the Russian Federation in figures: witnesses, victims, documents
A lot of brand new equipment like large-caliber mortars, can't go to the front line because they are prohibited by the Minsk agreements. Military because of this, a little regret. "Good mortar, induced fast and range is good, has a well-separable", they say. To use the new samples of military will be able only on the ground. "We are at the moment mortars 1976-1978 years, and this new mortar – our, Ukrainian" – they rejoice.
If mortars and tanks were given new, other equipment is repaired. The gunner is not without admiration demonstrates the upgraded jet system of volley fire. "The modernization, the new communication system. This 1980 production. Until 2014 it all went for scrap or for sale, and now undertook that the army should be armed", – said the soldier of the 27th artillery brigade Vladimir Koval.
The TSN reporter Eugene Zvecanska
Comments
comments