Zakharchenko found another reason not to implement the Minsk agreements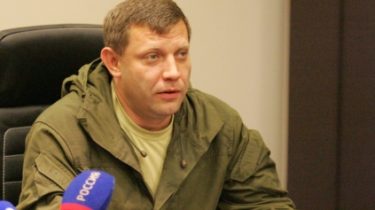 Zakharchenko found another reason not to implement the Minsk agreements
© Getty Images
The leader of the militants found two reasons.
The head of the so-called "DNR" Alexander Zakharchenko considers the statement of the President of Ukraine Petro Poroshenko on the need to implement safe package before the political part of Minsk agreements as the abolition of the Minsk agreements.
About this Zakharchenko said on Sunday night representatives of the "leadership" of the "DNR" at an emergency meeting in Donetsk, the website of militants of "DAN".
Also read: 43 times Russian occupation forces opened fire at positions of the Ukrainian defenders
"Today we spent with you learning that are associated with two things. The first is severe exacerbation of the contact line and the second performance of Peter Poroshenko, in which he completely reversed the Minsk agreement and has in fact unleashed a new round of hostilities", – said the head of "DNR", referring to the "mobilization of participants meeting of heads of ministries, departments, administrations of cities and districts".
As reported, on Saturday in Chuguyiv, Kharkiv region, Poroshenko said that Ukraine will not fulfill the political part of Minsk agreements until a safe package.
"Safe package provides a full ceasefire, withdrawal of foreign troops from our territory, the transfer of the first stage under the control of the OSCE, and in the second stage under the control of Ukraine-controlled section of the Ukrainian-Russian border and the withdrawal of heavy equipment and artillery, and unhindered access by inspectors to all areas," – said the President.
Comments
comments