Glad begins consideration of the budget in 2017. Government forecasts call too optimistic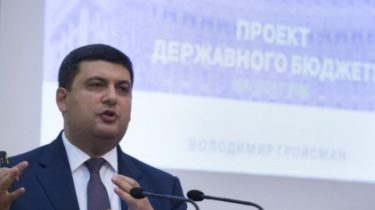 Glad begins consideration of the budget in 2017. Government forecasts call too optimistic
Prime Minister Volodymyr Groysman during the presentation of the bill on the state budget-2017© UNIAN
MPs have a month to study the document.
Next Thursday, October 20th, the deputies will consider the bill on state budget for 2017 in the first reading. The document in the Parliament received a month ago, on 15 September.
Tomorrow, October 18, the parliamentary Committee on the budget intends to hold a meeting and provide insights on the bill.
Tsogo tyzhden mi newedge razglyadev #Budget Zgidno s rules of the Verkhovna Rada @verkhovna_rada guilty to do TSE to 20 Zhovtnya. #рада8
— Andrew Paruby (@AndriyParubiy) on 17 October 2016
See also: the IMF has recognized a realistic state Budget of Ukraine-2017 – Minister of Finance
Meanwhile, the accounting chamber of Ukraine analyzed the government bill on the state budget 2017 and considers the Outlook for economic growth next year at 3% is too optimistic.

Comments
comments