In "DNR" announced three days of mourning after the murder of the odious "Motorola"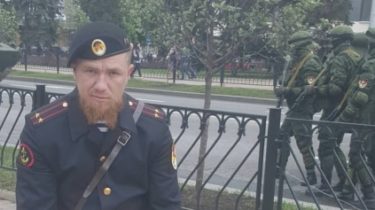 In "DNR" announced three days of mourning after the murder of the odious "Motorola"
© Elena Pavlova Vkontakte
It will last three days.
The self-proclaimed "DNR" announced three days of mourning for the assassination of militants Arseny Pavlov, also known as "Motorola".
"By decree of the Head of the Donetsk national Republic on 17 October 2016 in DNR declared three days of mourning (from 17 to 19 October) in connection with the death of Hero of the DNI, Colonel Arseny Pavlov"", – have informed in a press-service of the head of the so-called "DNR" Alexander Zakharchenko.
See also: "On the lift with the wind": social media users have reacted to the death of "Motorola"
We will remind that one of leaders of fighters of "DNR" Arsene Pavlov, nicknamed "Motorola" was killed on the evening of 16 October. According to preliminary information, it blew up in the Elevator of the house where he lived. In the group "DNR" in the murder of Pavlov blamed "Ukrainian sabotage-reconnaissance group".
Motorola was one of the most cruel militants "DNR". In particular, he shot the prisoner Ukrainian military Igor Branovitskiy. Himself "Motorola" confessed to the murder of the 15 captured military personnel of the Armed forces of Ukraine. In Ukraine he was declared wanted.
Comments
comments