OSCE declares about the fire patrol in Gold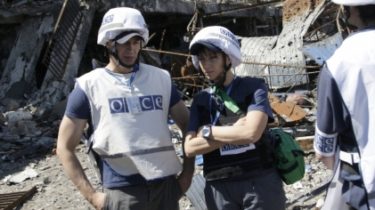 OSCE declares about the fire patrol in Gold
© Getty Images
In the report of SMM notes that the experts were unable to determine the direction of the shots.
Observers special monitoring mission of the OSCE came under fire in the area of the observation point of the Golden region.
This is stated in the report of the mission on October 16, reports Ukrainska Pravda.
See also: In Krasnogorovka tracked military vehicle ran over a woman – OSCE
"On the morning of 16 October with several positions controlled by Ukrainian authorities settlements of gold (60 km North-West of Luhansk) and Katerynivka (64 km West of Luhansk), the SMM patrol consisting of five experts observed a constant exchange of fire between 4-6 kilometers to the East from all positions," – noted in the report.
In total, according to observers, was made 60 explosions from guns (82mm and 120mm caliber), and sporadic gunfire from automatic grenade launcher (AGS-17 30 mm) and heavy machine guns within a half hour.
At 11:52 within the perimeter observation points gold patrol recorded burst – two feet from observers who were able to hide in the building of the item.
OSCE cars were parked near the scene of the fire, the observers were wearing clearly marked clothes (hats and jackets with logos of the OSCE), they were accompanied by two officers of the Armed Forces of Ukraine from the Joint center for control and coordination of questions of ceasefire.
It is noted that the experts were unable to determine the direction of fire.
We will remind, for the past day militants 61 times opened fire at positions of the Ukrainian defenders.
Earlier, on 1 October, it was reported that Gold in the Luhansk region has been breeding military forces of certain milestones in the area of the ATO. Then the employees of the OSCE monitoring confirmed that the military took and ATO forces and militants.
Comments
comments