Poroshenko enacted NSDC decision on sanctions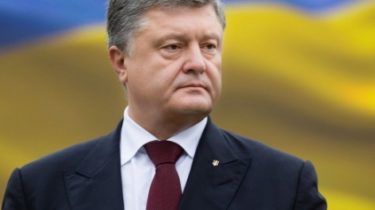 Poroshenko enacted NSDC decision on sanctions
© UNIAN
Departments should take care of the implementation of the decree of the President on the sanctions list.
President of Ukraine Petro Poroshenko has signed a decree "On the decision of the NSDC of Ukraine of 16 September 2016 "On the use of personal special economic and other restrictive measures (sanctions)".
About it informs the press service of the head of state.
In accordance with the decree enters into force NSDC decision of September 16, 2016, the Ukrainian sanctions list, where he supported the proposals concerning the continuation and use of personal special economic and other restrictive measures that were introduced by the Cabinet of Ministers of Ukraine, SBU and national Bank.
Recall that the Council has adopted a decision on the prolongation of personal special economic sanctions in 2015, and their today's decision extended their action and expanded sanctions list. We are talking about personal special economic and other restrictive measures for a period of one year, which apply to individuals and legal entities.
According to the presidential decree the Cabinet of Ministers, security service of Ukraine, the national Bank and the GPU is "committed to ensure the implementation and monitoring of the effectiveness of sanctions."
The Ministry of foreign Affairs shall inform the competent authorities of the European Union, the United States and other countries to impose sanctions and to take care of apply similar restrictive measures to the relevant persons.
Monitoring the implementation of the relevant decision of the Council of national security and defense of Ukraine is assigned to the Secretary of the national security Council and defense of Ukraine.
Read also: Poroshenko in Brussels to discuss with EU leaders sanctions against Russia and visa-free regime
We will remind that earlier people's Deputy from BPP Sergey Leshchenko said about corruption in the formation of the list of sanctions of Ukraine against Russian citizens and companies.
According to him, the national security Council decision on sanctions has ceased to operate.
We will add that later, the MP from the faction "Block of Petro Poroshenko" Ivan Vinnik said that the accusations in the direction of the national security Council regarding the termination of the sanctions against Russia because of corruption, the people's Deputy Serhiy Leshchenko tries to hide his personal interest.
Comments
comments