The death of "Motorola" provoked the conflict between the militants "DNR" – Tymchuk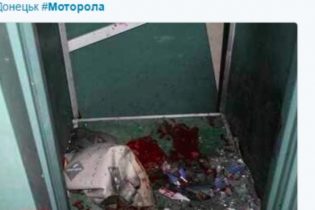 The death of "Motorola" provoked the conflict between the militants "DNR" – Tymchuk
© Photo from social networks
Ordinary "militias" involved in the terrorist murder of Russian FSB.
The elimination of militants of Arseniy Pavlov, known under the Callsign "Motorola", was the cause of the conflict between the leadership of the so-called "MGB" and "MIA DNR". About it I wrote in Facebook the people's Deputy and coordinator of "Information resistance" Dmitry Tymchuk.
See also: "the Kremlin's go-ahead and murder her. Became known version of the death of "Motorola"
According to him, at an emergency meeting "of heads of law enforcement agencies DPR" representatives "MGB" recalled his recent warnings about the presence in Donetsk of a "series of professionally trained Ukrainian DRG". They are accused of "MIA DNR" that the militants did not take action to neutralize.
"In turn, the user "MIA DNR" accused "MGB" inactive, indicating that the search and neutralization of DRG is not responsible for "law enforcement", and immediately offered to change the leadership of the "intelligence" and "counter terror units" in the "MGB", – said in his message.
Tymchuk also indicates that among the rank and file employees "MGB" to the version about involvement in the destruction of the "Motorola" Ukrainian DRG skeptical, pointing out that in the event of such operation of the Ukrainian saboteurs would have chosen a more simple method of elimination that does not require penetration into the secure building and mining lift.
"There are rumors about the elimination of "Motorola" forces a certain "task forces of FSB of the Russian Federation". Currently the city is under the leadership of "MGB", he added.
The bodies of military management (headquarters and units is OK "Donetsk" ("1-St of AK DNR"), the "Republican guard" units, "MGB" and "MIA") is given in the "increased readiness".
"At the same time spread rumors that at a recent meeting of the Ukrainian security forces, Poroshenko has set the task of a military solution to the problem of "LDNR" until the end of 2016, the Rumors are reinforced by the mythical "data of military intelligence DNI" on arrival at the Ukrainian units on the front lines of a large number "of American arms and equipment"". – stated in the message of Tymchuk.
We will remind that one of leaders of fighters of "DNR" Arsene Pavlov, nicknamed "Motorola" was killed on the evening of 16 October. It blew up in the Elevator of the house where he lived. In the group "DNR" in the murder of Pavlov blamed "Ukrainian sabotage-reconnaissance group".
Motorola was one of the most cruel militants "DNR". In particular, he shot the prisoner Ukrainian military Igor Branovitskiy. Pavlov himself admitted the killing of 15 captured soldiers of the Armed forces of Ukraine. In Ukraine he was declared wanted.
Comments
comments