Breeding forces near Stanitsa Lugansk postponed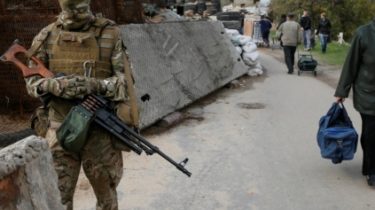 Breeding forces near Stanitsa Lugansk postponed
© Reuters
Breeding has already occurred in the settlements of Golden and Peter.
The headquarters of the ATO state the impossibility of withdrawal of forces and means in the area near the village of Lugansk.
This was stated by the speaker of the Ministry of defense on the anti-terrorist operation Andrey Lysenko, reports "Ukrainian truth".
"As for the village of Lugansk, there for regular provocative attacks of the enemy these actions impossible. Because under the terms of the withdrawal of forces and resources provides 7 days of continuous silence…But because of the constant attacks of the militants of these actions is impossible," – said Lysenko.
According to him, Ukrainian side is ready for this action prepared the grounds for withdrawal of forces and means, as known to observers of the OSCE mission.
See also: Settlements are not included in the area of breeding forces in the Donbas – Tuk
Recall, October 13 breeding forces in the Village of Lugansk finally snapped. On the eve on the presidential level, it was determined to begin withdrawal at 10:00 am. However, the militants shelled the military and so flagrantly violated the terms of the breeding effort. On the framework agreement on the breeding of the parties, at the site where CA to be held should remain on silent mode during the week. But the terrorists not only at night but at 9 am, after the opening of KPVV, fired two grenades.
Comments
comments