TSN visited the home of a widow "Motorola" and find out what they think about the death of blockbuster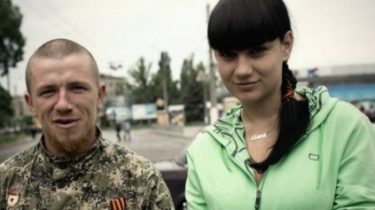 TSN visited the home of a widow "Motorola" and find out what they think about the death of blockbuster
© Elena Pavlova Vkontakte
Grandmother wife of the gunman lives in the territory controlled by Ukraine.
Lower village Semenovka under Slavonic, street Popova, 60 – here, the late "Motorola" and met his beloved Helen. Her grandmother continues to live in the liberated Ukrainian territory and argues that the destiny granddaughter and her grief-her husband is not interested, according to TSN.12:00.
A native of Slavyansk Elena met a terrorist, when he examined the houses local to the location of the terrorist positions. In one interview told that he offered himself for son-in-law without disclosing that he is already married.
The failure of a terrorist operation-in-law made newly relatives of the terrorist to escape. In a one-story house was only a grandmother says, the fate of the relatives she is no longer interesting.
– But with Lena, the granddaughter of a contact?
– No, no, I didn't contact you, I was angry.
Then why did you get mad?
Well…
Death vnuchkin son-in-law the woman of a venerable age is also not impressed: "I've only seen it once. How do I know who was killed, who got clipped, who made buried, how do I know".
As residents of Slavyansk took the news of the death of terrorist "Motorola"
TSN. Wounds
Today, 13:25
Add to favourites
In Slavyansk, where fighting action Motorola, and met his future widow, the terrorist even remember not want to. Grandmother of the bride is still on Ukrainian territory and convinces destiny granddaughter and her terrorist uninteresting to her.
Sadness the death of a terrorist caused only by the neigbour Oli – the girl still communicates with the widow "Motorola".
"I just found out yesterday that her husband died yesterday, I cried, too upset. She wanted to go back with my mom, but I don't know," the girl says.
At the mention of the gunman all the other neighbors say is not about him but about the war.
About "feats" of "Motorola" here is reminiscent of one beaten smelly trailer and on it three letters "DNR", which the local decided not to paint.
We will remind that one of leaders of fighters of "DNR" Arsen Pavlov, known as "Motorola", was killed the evening of October 16. According to preliminary information, it blew up in the Elevator of the house where he lived. In the group "DNR" in the murder of Pavlov blamed "Ukrainian sabotage-reconnaissance group".
Motorola was one of the most cruel militants "DNR". In particular, he shot the prisoner Ukrainian military Igor Branovitskiy. Himself "Motorola" confessed to the murder of the 15 captured military personnel of the Armed forces of Ukraine. In Ukraine he was declared wanted.
By TSN correspondent Natalia Nagornaya
Comments
comments