Militants fired Popasnaya from Pervomaisk occupied activist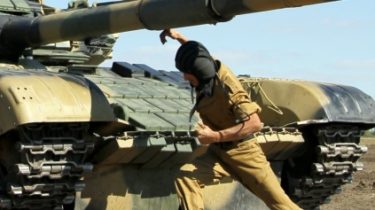 Militants fired Popasnaya from Pervomaisk occupied activist
© Reuters
Moreover, in the occupied Pervomaisk terrorists hiding allegedly given weapons.
Militants shelled Popasna with an industrial base in occupied Pervomaisk.
This was reported by TSN co-chair of the organization "right right" Dmitry Snegirev.
"Yesterday, 17 October, the militants were shelling of residential quarters of M. Popasnaya with cannon artillery 122-mm caliber self-propelled artillery 152 mm caliber", – he said.
According to local sources the "Right things", the militants shelled residential neighborhoods of the city with the territory of industrial base", silos for drilling shafts and wells" on the street thieves in the occupied Pervomaisk.
"Now the territory of the base used by militants of the "LNR" for storage of barreled artillery and repair of heavy armored vehicles," – said Snegirev, stressing that earlier "day SPA" had at its disposal extensive repair and industrial facilities – machine shop, repair shop for drilling equipment, forging and welding shop, electrical repair shop, shipping Department, Assembly area, underground area of drilling and warehouses for equipment and materials.
In addition, according to sources, the terrorists kept on-site construction management on the street Pereezdnaya heavy armor, which is supposed to take in places of permanent deployment for monitoring by OSCE representatives.
"Professional fighters shelled positions of the armed forces and residential quarters of the city Popasnaya, which is characteristic only of military personnel," concluded Snegirev.
We will remind, on the night of Sunday, October 16, about an hour , the militants fired at popasnuyu. Attack from artillery caliber of 122 mm lasted about half an hour and caused numerous damages to the city. The terrorists large caliber hit in the hospital in Popasna, as well as damaged several residential neighborhoods.
Comments
comments