Minsk on the eve of the "channel meeting": the militants recalled savagely captured debaltseve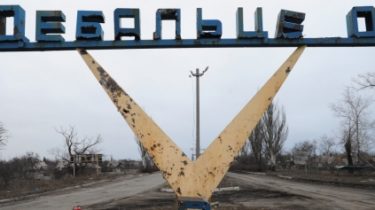 Minsk on the eve of the "channel meeting": the militants recalled savagely captured debaltseve
© Getty Images
Took place the videoconference tripartite liaison group with representatives of the militants.
On the eve of the meeting of the presidents of the "Normandy four" held a videoconference Tripartite liaison group with the participation of militants.
As reported by the results of the talks, the press Secretary of the representative of Ukraine Leonid Kuchma Darka olifer, said the failure of the implementation of the framework agreement on breeding forces from militants. The constant shelling is not allowed to withdraw at that time as the Ukrainian side meticulously meets its commitments.
In addition, the Ukrainian side insists on the execution of the block of questions for security, which "is key to the implementation of the whole complex of the Minsk agreements".
"We are talking about a full ceasefire, border closure, withdrawal of foreign military units and weapons, the release of OSCE SMM in Ukraine uncontrolled part of the Ukrainian-Russian border. We emphasize: this is extremely important ahead of tomorrow's meeting of the leaders of the Normandy Quartet in Berlin," notes burden.
Particularly, the Ukrainian side noted that according to the Memorandum of 19 September 2014 Debaltsevo should be under the control of Ukraine. Since the Memorandum was provided for the stop units of the parties on the line of contact that has developed as of 19 September 2014, which was disrupted by militants. In addition, the militants violated the ban on deployment of heavy weapons and military equipment in the area of human settlements of the Komsomol, Red, Novoazovsk, Sahanka.
We will remind, on October 19 in Berlin, a meeting of "Normandy four" – Petro Poroshenko, Angela Merkel, Francois Hollande and Vladimir Putin. The Ukrainian President noted that the hope for this meeting does not nourish, but for the sake of it has refused to meet with EU leaders.
Comments
comments