Near Mariupol, the military received another evidence of the presence of Russian troops in the Donbas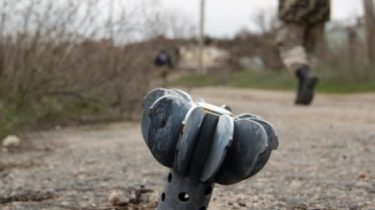 Near Mariupol, the military received another evidence of the presence of Russian troops in the Donbas
© UNIAN
The soldiers hope to be able to defeat the enemy.
In the southern sector of the front, the ATO Pro-Russian militants continue active use of forbidden heavy weapons. The military said that more firing from the direction of the occupied Sahanki, says the story TSN.19:30.
"The mortar attack was by the enemy. 120 ka, 80 ka beat in the morning. More than a decade fell – that's for sure. All day yesterday the attacks were. The whole day! That is, to count them unreal," – says the fighter APU "Vadim".
APU reported the embattled units of militants in the direction Mariupol
TSN. 19:30
Yesterday, 19:55
Add to favourites
Personnel are forbidden to leave the place of dislocation and go on vacation. This applies to enemy Marines in Novoazovsk. Artillery battery militants hit the positions of Ukrainian soldiers at Shirokino, lebedinskoye and Water. It was restless on all fronts. Loss per day – eight wounded and one dead.
Shells whipped large trees around the positions of the Ukrainian soldiers. The Marines have Lebedinsky joke that axes and saws for firewood ordered. Instead of wood stockpiled remnants of ammunition marking production of the Russian Federation – evidence for a future Tribunal. There are plenty to choose. "During the day it was released, more than 500 mines and shells of various caliber," – said the press officer of sector "Mariupol", Alexander Kindsfater.
The soldiers say that the Russian military presence is noticeable not only in the production of shells. "In the artillery there just specialists. Very catchy beat, very quickly find our positions," says Mat soldier with the call sign "Torch". The tactics of the enemy has brought him relative success. "They broke through there, the angle itself grabbed. And now nightmares us out," says the commander with the call sign "Santa".
See also: Intelligence detects the advance of the militants in the area of Water
The commander of the calculation was previously a "cyborg". Behind has 2.5 years of the war. He is confident that those who fought, was demobilized and again went to the front capable of defeating the invaders. "I came because I was needed here. Not cool, better plus one, minus one," he said modestly.
As previously reported, the soldiers of the Ukrainian side of the JCCC, who arrived in Water, have recorded numerous explosions of mines and shells, destruction of the residential sector and infrastructure. "The result is a powerful and cynical attacks completely destroyed 6 houses and 10 sustained major damage, incapacitated and the power line. Almost illegal armed groups destroyed a whole street in this village", – is spoken in the message.
The correspondent TSN Alexander Motor
Comments
comments