The Abkhaz bomber was subordinate to the "Motorola" – Caucasus Times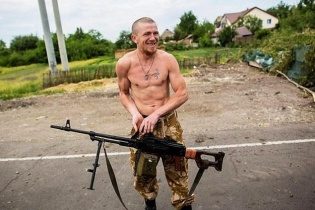 The Abkhaz bomber was subordinate to the "Motorola" – Caucasus Times
The triggerman in Sukhumi appeared the citizen of Ukraine.
As a result of an improvised explosive device on the territory of the Sukhumi television station the man was a citizen of Ukraine.
This was reported by the Caucasus Times, a source in the Ministry of internal Affairs of Abkhazia.
Sergey Tarasenko allegedly were in the group killed on Sunday in Donetsk field commander of insurgents of Arseniy Pavlov, known by the nickname "Motorola".
According to a source, the victim in the territory of the telecentre, the suspect had accomplices. Tarasenko, allegedly came to Abkhazia the other day, crossing the border of Abkhazia with Russia on a post of Psou. According to investigators, the explosion occurred accidentally, the attacker is still some time left in the mind. When it was discovered the radio, as well as maps showing the location of state institutions. About possible motives of action of the deceased is not reported.
However, it is known that earlier in Abkhazia was treated separatists from "DPR", including "Motorola", which was a conflict with the locals, almost ending in a shootout.
Read also: Militants claim that the design of the bombs when it attempts to "Motorola" and Zakharchenko were identical
Recall, one of leaders of insurgents "DNR" Arsen Pavlov, known as "Motorola", was killed the evening of October 16. According to preliminary information, it blew up in the Elevator of the house where he lived. In the group "DNR" in the murder of Pavlov blamed "Ukrainian sabotage-reconnaissance group".
Motorola was one of the most cruel militants "DNR". In particular, he shot the prisoner Ukrainian military Igor Branovitskiy. Himself "Motorola" confessed to the murder of the 15 captured military personnel of the Armed forces of Ukraine. In Ukraine he was declared wanted.
Who killed the leader of the Donetsk militants "Motorola"
TSN. Pdsmi day
Yesterday, 23:49
Add to favourites
Versions are still different. Fatal for a terrorist explosion in the Elevator and connects with the sweep style of the FSB, and with internal strife between the Donbass and the groups. In addition, there was a video message supposedly from the far-right organization "Mizantropik division" which is responsible for the elimination of "Motorola"
Comments
comments