Savchenko told why went to the occupied territories of Donbass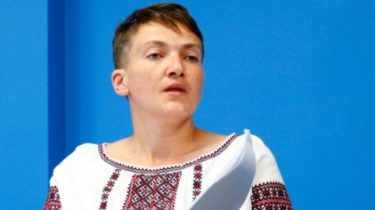 Savchenko told why went to the occupied territories of Donbass
© Reuters
According to the Deputy, people dissatisfied with the rule of the militants.
People's Deputy of Ukraine Nadiya Savchenko went to the occupied territories of Donbassto track the delivery of contraband.
She told about it on air of TV channel "112 Ukraine".
"It wasn't no invitation this happened during the first three months. I've been tracking in the first place the way of smuggling, where they are possible, what is possible. All the information that I got, I passed on to the relevant authorities," – said Savchenko.
Read also: Savchenko counted 245 captured Ukrainians in Donbas and sees no need for a special status
The MP says that he tracked the mood of the people living in the occupied territories. According to her, they are dissatisfied with the rule of the militants.
"I also looked at the mood of the people. The people there need help. Now they wish it was over, that the war is over. The same problems that in the whole of Ukraine, not enough money, terrible dissatisfaction with the government Carpenter. Power Zakharchenko discontent less, but there people do not want to continue to live," – said Nadezhda Savchenko.
A former prisoner of the militants and the Russian government says it will go wherever considers necessary, if it will benefit Ukraine.
Read also: Savchenko criticized Gerashchenko for delaying negotiations on a prisoners
We will remind, people's Deputy of Ukraine Hope Savchenko, speaking in the session hall of the PACE, said that he recently visited the occupied territories and talked with people who took her prisoner.
She also said that were able to communicate with the "D/LC" in detail so that I felt the change in their attitude.
Earlier, the Donetsk journalist Alexey Matsuka said that Savchenko tried to get to Donetsk a few weeks ago, "paths" through Krasnogorovka for a meeting with Zakharchenko. Savchenko in response, denied his words, and said that generally it was not in the area of ATO.
On a date with the Kremlin's prisoner: what actually Hope Savchenko
Classified material
3 Oct, 12:55
Add to favourites
Nadiya Savchenko, on hunger strike, giving interviews to the Pro-Kremlin journalists, she called for dialogue with the militants and it is called the Kremlin spy. She fights for the release of prisoners of war and for that, she applauded. Many do not believe a word of it, and many increasingly see her as the heroine. The journalist of "Secret materials", invited Nadezhda Savchenko out.
Comments
comments