The Prosecutor's office gave the case of the burning of the "inter" in the SBU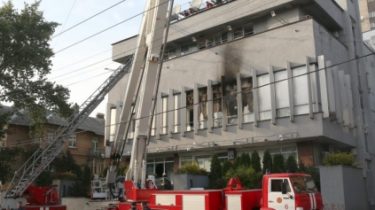 The Prosecutor's office gave the case of the burning of the "inter" in the SBU
© UNIAN
We are talking about violated four articles of the criminal code of Ukraine.
The Prosecutor's office of Kiev passedthe law about the burning of the office of the company "National information system", which produce programs for the TV channel "inter" in the investigation Department of the SBU in Kiev and Kiev region.
This was reported by press Secretary of the Prosecutor's office of Kiev Hope maksimets, writes "Tyzhden.ia".
The production opened on four articles of the criminal code of Ukraine. At first it was three articles: obstruction of activities of journalists, arson and hooliganism with the use of special items. Now add the "terrorist attack".
By words a press-the Secretary of the Metropolitan Prosecutor's office, last week, all materials were sent to the SBU for further pre-trial investigation.
See also: "inter" published the video of the burning channel surveillance
Recall, September 4, from fire damaged the premises of "inter" on the street Shchusev. From there it was carried on the news broadcast. Before the fire, several people were set on fire under the office of the TV channel of the bus and chanted "inter – agent of Moscow". 11 Sep guide "inter" said that in the future will do with the information policy of the channel.
Who benefits from the destruction of the TV channel "inter": the consequence considers the version about an arson
TSN. 19:30
9 Sep, 21:28
Add to favourites
In its favor say journalists and other experts. Sunday's incident has been called "active defense" is when a potential victim of the attack fakes an attack on himself, to avoid a real threat.
Comments
comments