In Donetsk at funeral for fighter "Motoroly" herded the employees and students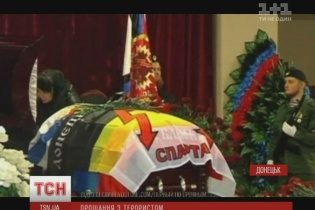 In Donetsk at funeral for fighter "Motoroly" herded the employees and students
At the farewell ceremony invited the official and the wife of a terrorist.
The applause, with the crowd in an open coffin. In Donetsk theatre of Opera and ballet in the morning say goodbye to the Russian fighter Arsen Pavlov, nicknamed "Motorola", says TSN.16.45.
The funeral of "Motorola" in the morning in the Central Russian channels. Show ceremony, the crowd of mourners and good memories of the occupier.
"My first impression was: badass! Really, the scumbag was. To be honest, it is the impetus of life was – safely, adequately led the fighting," says the fighter "Givi".
In the home, "Motorola" already earn. In the Runet there were pages where the scammers collect aid for his widow. They have a "Motorola" two. And they both cry over the coffin. Donetsk – Elena Kolenkina comments. Rostov – Victoria Kondrashova says Russian propagandists that her husband left to fight in Ukraine, not even collecting things. So about the second wife, she learned from the TV.
See also: "Motorola", "Sangak", "Dyuba" – underworld "Russian world"
"In North Ossetia was a war, he was going to, but I wouldn't let him. But this time is not kept. I was at work on duty, arrived, and my mother says he went", – says the woman.
From the ceremony in the center of Donetsk blocked. To honor the action of the breakaway Republic are trying someone else's slogan, the city has met with Motorola and the inscription "Heroes never die".
The self-proclaimed Donetsk say goodbye to Arsen Pavlov came 50 thousand people. That many of them are not on their own, evidenced by publications in social networks. At the funeral of the leader of insurgents EN masse, herded the employees. And even reduced lessons in schools to help teachers with the students attended the ceremony.
The coffin taken on a gun carriage. Buried in the town cemetery. Why the two hundred cargo not delivered nor in the Komi Republic, where he was born, nor in Rostov, where he washed cars before the start of the Russian invasion of Ukraine, commanders "Motorola" don't explain.
Recall that the leader of the terrorists exploded in the Elevator of his house on the weekends. In Ukraine 2014 he came to fight on the side of "DNR". For bullying and shootings of prisoners of war Ukrainian Ukraine through Interpol tried to detain him before trial, he answered for his crimes.
Comments
comments