It looks like a provocation: the defense Ministry does not believe the words of the militants of readiness to breed forces in the Village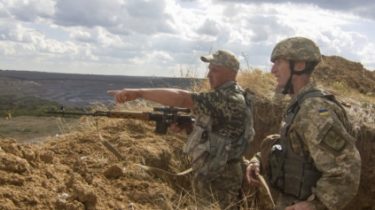 It looks like a provocation: the defense Ministry does not believe the words of the militants of readiness to breed forces in the Village
© UNIAN
According to Lysenko, the terrorists have not fulfilled any prerequisites for breeding forces.
The militant's claims about the readiness to withdraw forces and means in the area of Stanitsa Lugansk look like a provocation.
This was stated by the speaker of the Ministry of defence on ATO Andrei Lysenko, writes "Ukrainian truth".
"Yesterday the militants fired at the Village Lugansk. It looks like a provocation than as a desire to withdraw the forces and means" – he said, commenting on Russian media that the militants "LNR" has launched a signal flare, "which informs about the readiness to withdraw forces in the area in the vicinity of the Village Lugansk".
Also, the Colonel assured them that the militants daily launch "some rockets" and added that "representatives "LNR" signed the framework agreement, which clearly spelled out the preconditions for the withdrawal of forces, but had not fulfilled any condition.
"The withdrawal of forces and means is carried out under the direct supervision and in the presence of international observers of the OSCE mission and representatives of the Joint center for control and coordination after seven days of calm", – he explained, noting that the Ukrainian soldiers have long been ready to take the equipment to the site which were agreed with representatives of the OSCE mission.
We will note, earlier "RIA Novosti" reported that "representative LC" on Minsk talks Vladislav Danego said about the readiness of the withdrawal of forces near the village of Lugansk.
"We launched a rocket (on the readiness – approx.ed.). According to our data, with their (Ukrainian – ed.ed.) side units are also ready to breeding efforts and resources on the Village of Lugansk, but they said that no instructions from Kiev was not waiting for orders," he said.
We will remind, fighters of heavy mortars fired at Ukrainian border guards near Mariupol. Terrorists fired about 30 min 120mm
Comments
comments