"Naftogaz" and six companies filed a lawsuit against Russia because of the stolen assets in Crimea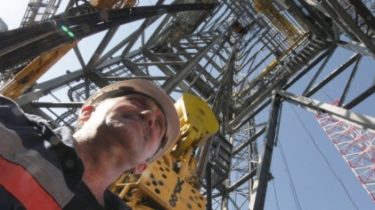 "Naftogaz" and six companies filed a lawsuit against Russia because of the stolen assets in Crimea
Self-propelled floating drilling rig "Peter Godovanets" "Chernomorneftegaz" in the Crimea© UNIAN
The total amount of the claim is $ 2.6 billion.
Two days ago, on 17 October, the Ukrainian oil and gas company initiated arbitration proceedings against the Russian Federation and required to pay damages caused by the illegal seizure of Russian assets of the group in the annexed Crimea.
The claim, in particular, gave "Naftogaz of Ukraine" and six of its subsidiaries PAO "GAO "Chernomorneftegaz", PJSC "Ukrtransgas" DC "of likvo", PJSC "Ukrgazvydobuvannya", PJSC "Ukrtransnafta" and GC "Gas of Ukraine". The preliminary total amount of claims regarding the reimbursement amounts to 2.6 billion USD. On this day, October 19, the press service of "Naftogaz".
See also: the world Bank has provided guarantees to Naftogaz to $ 500 mln loan
"After the illegal invasion of Crimea and the occupation of the Peninsula in 2014, the Russian Federation has used large-scale and well-coordinated scheme of deprivation of Ukrainian companies of their property without compensation. In the Crimea, "Naftogaz" had some valuable energy assets, the seizure of which the Russian side violates bilateral investment agreement, which requires the Russian Federation to respect and protect the Ukrainian assets, including those located in Crimea. The scheme used by the Russian Federation, in addition to other actions, foresaw the steps to the formal nationalization of oil and gas assets of "Naftogaz" in the Crimea, including the armed seizure of drilling platforms and the transfer of almost all Crimean assets of "Naftogaz" to the Russian state companies", – stated in the message "Naftogaz".
Meanwhile, the Stockholm arbitration court concluded the oral hearing in another case of "Naftogaz" and "Gazprom".
"Naftogaz of Ukraine" passed into the control of the Cabinet
TSN. 19:30
22 Sep, 20:14
Add to favourites
Such consequences of the conflict last week, emerged from the Ministry of economic development former Manager of "Naftogaz of Ukraine". The Agency attempted to modify the statutes of the state of the company, effectively separating it from the "Ukrtransgaz" – the enterprise for transportation and gas storage. The amendments abolished after the meeting the Cabinet Ministers, US Ambassador and representatives of international banks.
Comments
comments