On the streets of Russian cities loose a tiger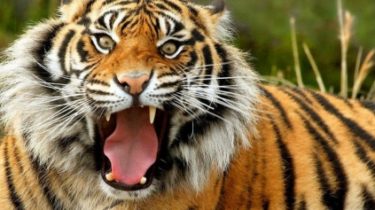 On the streets of Russian cities loose a tiger
© Archive
People are recommended to exercise caution.
The police checks the message Vladivostok residents about the appearance on the outskirts of the Amur tiger.
Writes about this "Tape.ru".
Predator seen in several places.
At the scene directed police, citizens are encouraged to exercise caution.
The corresponding video was then posted on social media.
Director of the far Eastern branch of the center "Amur tiger" Sergei Aramilev said RIA Novosti that seen in Vladivostok, the predator, most likely, the same one that in early October appeared in the city of Artem of Primorskiy Krai.
Read also: In China, the Safari Park tigers staged a hunt for people – killed a woman
Recall that for the first time in a hundred years, conservationists counted more number of wild tigers than in previous years.
Estimated associations for nature protection, now counted about 3890 individuals.
In the world wildlife Fund believe that such a number of predators could mean that the process of their disappearance has been the opposite, because in 2010, the rare animals in the world there are only 3200.
Comments
comments