Sumy customs "krysheval" illegal import in millions of hryvnias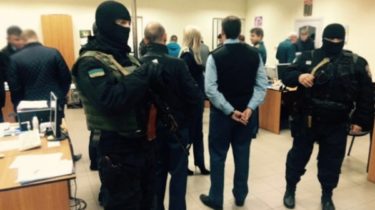 Sumy customs "krysheval" illegal import in millions of hryvnias
Money
Today, 11:34
1 of 4

© National police of Ukraine

1 of 4

© National police of Ukraine

1 of 4

©

1 of 4

© National police of Ukraine
© National police of Ukraine

© National police of Ukraine

©

© National police of Ukraine
According to preliminary data, the amount of damage is over 15 million.
Police uncovered a massive criminal scheme for the import of products involving employees of the customs authorities.
This is stated in the message of national police.
In particular, the customs officers helped the entrepreneurs to bring fabric into the country without payment of obligatory payments.
So, the company bought fabric abroad and to import it on the territory of Ukraine were provided to customs authorities of the dummy data on the characteristics of the good. According to official duties, the customs officers had to check the received information, but did not.
Further the goods were imported without payment of customs taxes and mandatory payments.
According to this scheme, on the territory of Ukraine accounted for more than 300 containers with cloth. The preliminary amount of damage makes more than 15 million hryvnias.
October 18, in the framework of criminal proceedings investigators have carried out the authorized searches in the territory of a customs post, in the offices and warehouses of companies and in the apartments of the defendants in the case.
See also: One of the leaders of the Kyiv customs arrested with a bail of 2 million UAH
We will remind, recently in Bukovina chief customs inspector got burned on a bribe. The police detained the officials directly during receiving a bribe, during a search in its office office discovered the so-called "black cash", which was almost five thousand hryvnias and more than two hundred dollars.
Exposed in Transcarpathia customs officer, per shift collected 7 thousand euros of bribes and hid in the dog cage
TSN. Pdsmi day
4 Oct, 00:43
In Transcarpathia, the security service operatives and military Prosecutor's office exposed the customs officer who collected money from drivers of the Ukrainian minibuses from Italy. Searches and detentions occurred at the customs post "Tisa" on the border with Hungary. The size of the bribes ranged from four to five hundred euros per bus. Among the collectors of money was canine of the Department on combating customs offences.
Add to favourites
Comments
comments