The militants drove tanks, armored vehicles and "Grad" near Shirokino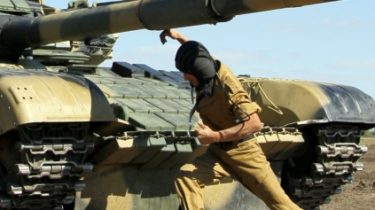 The militants drove tanks, armored vehicles and "Grad" near Shirokino
© Reuters
Defenders of Ukraine enemy activity not scared.
Enemy forces continue to intimidate the Ukrainian military in the southern part of the front of the ATO. Near Shirokino Marines celebrate the strengthening of militants appliances, says the story TSN.19:30.
"Sahanka down here, 800 or 900 meters before them. Technology is constantly buzzing every morning. Infantry fighting vehicles, tanks, and now they say "the city" arrived, too," said the fighter of Marines of Ukraine with the Callsign "Vasek".
Militants rotation and with new forces rushed into the offensive
TSN. 19:30
Yesterday, 19:52
Add to favourites
At least 6 Ukrainian soldiers were wounded at the front. Pro-Russian militants and Russian invaders on the front lines do not perform neither Minsk nor Norman nor any other peace agreement, saying the Ukrainian military. The Marines say that only the position of foreigners was rotated.
Arrogant invader does not relax the Ukrainian fighters, especially in the dark part of the day. Saboteurs carry out attacks and carry out a powerful cover of artillery and mortars. "Two drones over us, over the position – one in front and one behind. There were corrected – and so the planting went," – said marine "Hanibal" about the style of the attacks of Russian mercenaries.
From Sakhanka shelled predominantly Water and the surrounding area Lebedinsky. Not deprive the attention and SHIROKANE. Recently on enemy positions was rotated, and the military has already felt its effects. "Dot to dot beat! Not a miner came out and started shooting," say the Ukrainian fighters. But even so, the enemy positions are not afraid, because, they say, in his more than sure. "We have a little bit of technique and willpower on top of that… the Mood is there! Fewer victims, more enthusiasm – and we'll be in Novoazovsk," – said the fighter units of the marine corps "Writer".
The correspondent TSN Alexander Motor
Comments
comments