Mother of slain volunteered to serve in the "Aydar"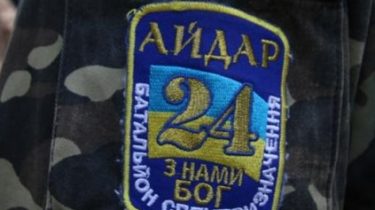 Mother of slain volunteered to serve in the "Aydar"
© News Of Donbass
A woman wants to continue the work of the son.
Lyudmila Menuk from the beginning of the war, he engaged in volunteer "Aydar", where he served her 23-year-old son, and after his death, continued his work and she joined the ranks of the division. All military she became a model of courage, says the story TSN.19:30.
Even when he was alive, Ludmila started volunteering. "I knew that the war killed that the law was not yet such language as a volunteer. It was necessary to defend the rights of volunteers and the families of those killed," – said the initiator of creation of the human rights organization soldiers ' mothers, named after the call sign of her son, "mallow".
The story of heroic women: losing a son in the war, decided to continue his work
TSN. 19:30
Yesterday, 20:28
Add to favourites
Her youngest son died at the front, and she never gave up on me and all military now shows an example of courage. Lyudmila Menuk since the beginning of the war was engaged in the volunteers of the "Aidar" division, where he served her son. And after the death of his son continued his work, and she joined its ranks.
"To my shame, I didn't even know that it's called a flower. When my son died, I was told that mallow planted mother in his yard whose sons gave their lives for freedom of Ukraine", – says Lyudmila. In their 52 it works in the "Aydar" and the second year student of social psychology. The mother of the deceased soldier said that now her family was whole battalion and there to call her mom. "Here each of the guys is my son. Every girl is my daughter. Imagine how many children do I have? And I it is easier. I love them very much. And thanks to them I live," says the woman.
Earlier it was reported that fighters of a battalion "Aydar" to resent the behaviour of their comrades in the rear and warn the civilians from the use of its symbols. They say the chevrons and the form is better to wear on the front lines and earn respect on the front.
The TSN reporter Eugene Zvecanska
Comments
comments