The Pechersky court allowed the investigation of the representative of Putin in the Crimea and General of the Russian Federation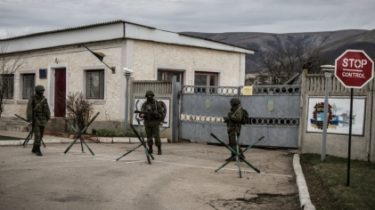 The Pechersky court allowed the investigation of the representative of Putin in the Crimea and General of the Russian Federation
© Getty Images
They incited military APU to commit treason.
The Pechersky regional court of Kiev allowed the pre-trial investigation in criminal proceedings against the former authorised representative of the President of the Russian Federation,"Crimean Federal district" Oleg Belavintsev and Deputy commander of the southern military district of the armed forces Lieutenant General Igor Turchenko.
It is reported by the GPU.
Both officials suspected of committing crimes under articles "encroachment on the territorial integrity and inviolability of Ukraine", "incitement to treason" and "waging aggressive war". Belavintsev and Turchenyuk in February-March 2014 incited military APU to commit treason and contributed to the waging of an aggressive war against Ukraine, which led to temporary occupation of the territory of the Crimea and city of Sevastopol and other serious consequences.
"The suspects wanted, investigating judges granted permission for their detention and delivery in court for the hearing of the petition on application of preventive measure in the form of detention", – note in GPU.
See also: What threatens Europe occupied Crimea. Ukraine presented a detailed presentation to the UN
Recall that the Ukrainian border guards say a high activity of aerial reconnaissance of the Armed forces of Russia on the border with Crimea.
This was stated by the assistant Chairman of the state border service of Ukraine Oleg Slobodyan.
From 6 October, the Ukrainian border guards in Crimea adminlogon recorded flight of six Russian helicopters and, in one case the use of the drone.
The Russian border Agency also practices the use of balloons of the type "Lynx".
Comments
comments