Changes in "DNR": Zakharchenko introduced a new "mayor" of Donetsk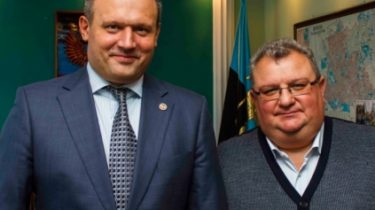 Changes in "DNR": Zakharchenko introduced a new "mayor" of Donetsk
The former and the new "mayor" of Donetsk© gorod-donetsk.com
Former "mayor" moved to the office of the leader of "DNR".
In Donetsk introduced the new "mayor" Alexei Kulemzina.
This was reported on the website "Donetsk city administration".
"By decree of the head of the "Donetsk people's Republic" acting head of administration of Donetsk appointed Alexey Valeryevich Kulemin – the head of the CP of the administration of Donetsk "Nonelectrostatic", – stated in the message.
At the same time, "former head" of the city Igor Martynov was the "Deputy head of the administration," Zakharchenko on social policy.
Note, Alexey Kulemin in 2007-2010 he was the head of Department of foreign economic relations and European integration of the Donetsk regional state administration. 2011-2013 – Deputy chief of the Department of regional development, investment attraction and foreign economic relations of Donetsk regional administration. In November 2014 Kulemzina was appointed as the Director of KP "Nonelectrostatic".
On the 16th of October in Donetsk killed one of leaders of insurgents "DNR" Arsen Pavlov, known as "Motorola". According to preliminary information, it blew up in the Elevator of the house where he lived. In the group "DNR" in the murder of Pavlov blamed "Ukrainian sabotage-reconnaissance group".
Motorola was one of the most cruel militants "DNR". In particular, he shot the prisoner Ukrainian military Igor Branovitskiy. Himself "Motorola" confessed to the murder of the 15 captured military personnel of the Armed forces of Ukraine. In Ukraine he was declared wanted.
Comments
comments