Homemade pilaf and paperwork: the dream defenders Avdeevka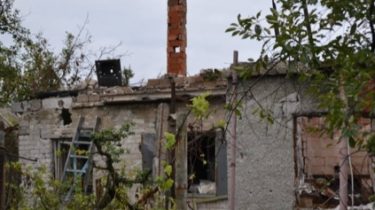 Homemade pilaf and paperwork: the dream defenders Avdeevka
© Facebook/the press-center of staff ATO
The military hopes that, after demobilization, a little rest from war.
In the Old Avdiyivka under fire hit residential houses, resulting in four huts were destroyed. Fortunately, no one was injured, and the positions of the APU in the industrial area, says the story TSN.19:30.
The local military live in anticipation of demobilization. Masi plans to return home together with the dog. "My house without it no one will," he said of four-legged friend. The military said that at home the father will prepare both demobilized pilaf. And yet sums up the personal war. "Most importantly, I learned to be silent. Do not take close to heart and react with aggression to those who are not busy with the war," he says.
In the Old Avdiyivka under fire hit residential home
TSN. 19:30
Yesterday, 20:08
Add to favourites
There were no injuries, but there are only 4 houses destroyed. Only in the Donbass per night, the fire fighters smashed 9 houses. No casualties and on combat positions Avdiivka industrial area. There are shooting now, not so often, although the sighting.
Among road signs and camouflage nets sneak lipstick Katerina. 20-year-old paratrooper with a neat manicure and perfume, adapted from the military world to himself to be a woman. "My guys know I'm about four always go in the shower, so the guys always include a large generator because the dryer, if included, can not withstand. I dry the head and switch back," she said.
Education Catherine is a nurse, and studies on rehabilitation, but the war she is like a hospital. The medicines are next to the icons, a purse and a vest, over the bed in her flag. Combat the doctor dreams of no more war. "To sit somewhere far away and to push the paper," she says.
The TSN correspondent Natalia Nagornaya
Comments
comments