Kisses and handshakes: Hollande arrived at the residence of Merkel for the "channel" meetings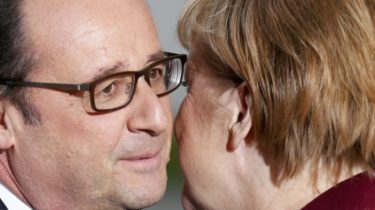 Kisses and handshakes: Hollande arrived at the residence of Merkel for the "channel" meetings
© Reuters
All awaiting the arrival of Putin.
French President Francois Hollande arrived to the residence of the German Chancellor Angela Merkel for talks in "channel format" to resolve the situation in the East of Ukraine.
This writes UNIAN.
The Chancellor came to the porch of the house, congratulated the French President. They are European habit twice exchanged friendly kisses in front of the cameras and shook hands.
See also: No hope hope. What is going and what to expect from the talks in Berlin "Normandy format"
Before to the place of negotiation has arrived the President of Ukraine Petro Poroshenko, and now all awaiting the arrival of Russian President Vladimir Putin.
Comments
comments