Oschadbank announced the release of the Association of Ukrainian banks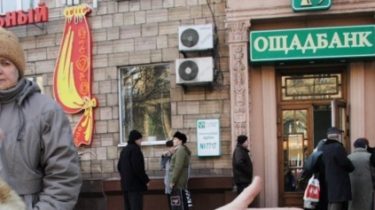 Oschadbank announced the release of the Association of Ukrainian banks
© UNIAN
The activity of AUB in the state Bank is qualified as inefficient.
October 18, 2016 the Board of the Bank decided on voluntary withdrawal from the Association of Ukrainian banks in the order specified by its Charter.
About Oschadbank reported on its website today, October 20.
See also: the State should withdraw from a blanket guarantee on deposits of individuals in "Oshchadbank".
In the opinion of the Bank, the report said, the AUB, which, according to the Statute, "aims to promote the creation and improvement of legal base of banking activity" no longer performs its functions.
The activities of the Association in Oshchadbank qualify as ineffective because it does not analyze legislative activities and does not analyze the law enforcement practice with the aim of identifying problematic issues, does not comply with the basic statutory task of protecting the rights and interests of the member banks of the Association.
Also read: Gontareva requires the opening of criminal proceedings against Taruta
It is noted that given this, Oschadbank in 2012 ceased active participation in the activities of the Association and payment of appropriate fees.
Recall, August 26, Oschadbank filed a statement of claim with all the evidence base for damages caused as a result of the annexation of Crimea.
See also: Ukrainian "Oschadbank" pulled into court of the Russian "Sberbank"
Thus Oschadbank began a new phase in the legal proceedings concerning its claims against the Russian Federation in the framework of a bilateral Treaty on investment protection that results from total destruction of its investments in the Crimea for illegal occupation and de facto annexation of the territory of Russia.
Comments
comments