In Kiev under a subway train has fallen man – movement on the red line stopped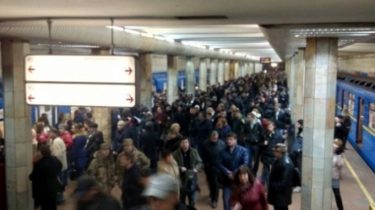 In Kiev under a subway train has fallen man – movement on the red line stopped
Kiev
Today, 08:01
1 of 2

Hundreds of passengers at the metro station "Svyatoshino" is forced underground now search for ground transportation
© Dnia

1 of 2

Hundreds of passengers at the metro station "Svyatoshino" is forced underground now search for ground transportation
© Dnia
Hundreds of passengers at the metro station "Svyatoshino" is forced underground now search for ground transportation
© Dnia

Hundreds of passengers at the metro station "Svyatoshino" is forced underground now search for ground transportation
© Dnia
The incident occurred at the station "Beresteyskaya."
Today, 21 October, in the morning at the station "Beresteyskaya" in Kiev, fell under a train. As it happened, and survived, is not yet known.
Because of the incident completely stopped the movement of trains on the red line, reports journalist Dnia. It is now rush hour and stations – thousands of people. Now they have to get to work or for business ground transportation.
Soon the Kyiv metro has reported that the movement on the red line resumed.
"Beresteyskaya" the departed ambulance. About it Dnia reported in Center of emergency medical aid and disaster medicine of the city of Kiev. Details there also is not yet know.
At the metro station "Beresteyskaya" to comment on anything on the phone refused.
Recall that on 15 October in Kyiv under a subway train also fell a man. Then suspends blue line.
Comments
comments