In the area of ATO scandals opened transferred from zaytsevo checkpoint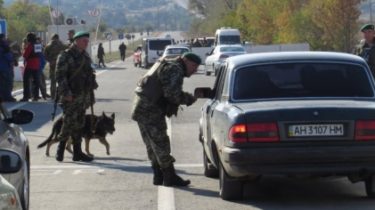 In the area of ATO scandals opened transferred from zaytsevo checkpoint
Illustration
From now on the road to the occupied lands is through the "Mallorcan".
Today, 21 October, opened checkpoint "Mallorcan". It will replace PPC "Russian Federation", which previously functioned on a road corridor, "Horlivka-Artemivsk".
The opening was attended by the head of the Donetsk oblast Pavlo zhebrivskyi. And the chief of East regional government of state frontier service of Ukraine Sergey Bidylo and the first Deputy head of the antiterrorist center at the security Service of Ukraine Ruslan Homchak.
It is noted that "Maori" built on the advanced technology, which will reduce the waiting time for persons in both directions. There are 4 lanes on the entry and same for exit, private lane for the movement of local residents. Bandwidth checkpoint is about 7-8 thousand people and 2 thousand vehicles.
However, as reported from the scene correspondent of TSN, now in the checkpoint queue was about 200 cars, and a crowd of pedestrians. People who return to the occupied lands, migration KMAR mostly unhappy, so there were scandals.
Earlier Paul zhebrivskyi said that the transfer of the checkpoint closer to the demarcation line will bring from the "gray zone" of several villages.
Comments
comments