If I get captured, don't invest in me – Savchenko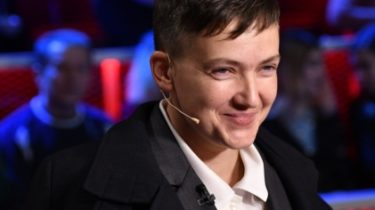 If I get captured, don't invest in me – Savchenko
© Dnia
The MP commented on his visit to the occupied territories.
The people's Deputy Nadezhda Savchenko urged "not to invest in it" if it again gets captured by the militants.
So she commented on the risks of its visits to the occupied territories in the Donbas, in which the member admitted during a speech in the PACE.
"I'm risking myself. If I get caught, then don't invest so much (to me), invest in others, get everyone out," said Savchenko, during a talk show "Right to Vlad," on channel 1+1.
Read also: Savchenko told why went to the occupied territories of Donbass
We will remind, people's Deputy of Ukraine Hope Savchenko, speaking in the session hall of the PACE, said that he recently visited the occupied territories and talked with people who took her prisoner.
She also said that were able to communicate with the "D/LC" in detail so that I felt the change in their attitude.
Earlier, the Donetsk journalist Alexey Matsuka said that Savchenko tried to get to Donetsk a few weeks ago, "paths" through Krasnogorovka for a meeting with Zakharchenko. Savchenko in response, denied his words, and said that generally it was not in the area of ATO.
Savchenko: If again captured, do not invest in me
Policy
Yesterday, 00:30
Add to favourites
The people's Deputy Hope Savchenko in the Studio "Right to rule" stated that, under their own responsibility and at your own risk goes to the occupied territories in the ATO zone. To get again captured the Deputy is not afraid.
Comments
comments