The EU maintains unity against Russia and will not compromise – Tusk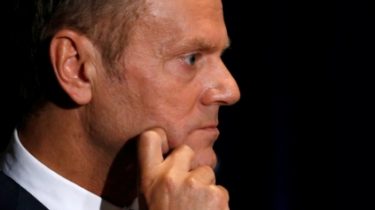 The EU maintains unity against Russia and will not compromise – Tusk
© Reuters
But formally, the European Parliament has not adopted an official policy document against Russia.
The European Union adheres to a consistent course in its policy toward Russia and will not compromise in matters of European values and principles.
This was stated by the President of the European Council, Donald Tusk, reports UKRINFORM.
"Of course, the EU wants dialogue, but never relinquish our values and principles. Therefore, the leaders agreed to stay the course and keep the unity of the EU" – said Tusk.
According to him, it is clear that Russia's strategy is to weaken the EU.
He said that European Union leaders noted the violations of Russian airspace, campaigns of misinformation, the implementation of cyber attacks, interference in political processes in the EU and outside it, the use of hybrid tools in the Balkan region and beyond, as well as on the investigation of the shooting down of MH17.
Tusk also said that the summit condemned the actions of the regime of President Assad and his ally Russia using the bombing of the city of Aleppo.
Read also: Poroshenko and Tusk coordinated actions of the Association Agreement and visa-free regime
But, formally, the European Council this time has not adopted an official policy document against Russia, but this issue, including the extension of sanctions will be considered at the next summit in December.
The EU called for further financial sanctions against Russia over the Kremlin's actions in Ukraine and Syria
TSN. 16:45
11 Oct, 17:21
Add to favourites
The President of the European Parliament Martin Schulz and European Council President Donald Tusk said at a forum in Germany. According to officials, Russia has actively supported right-wing nationalists throughout Europe. And ready to continue to use force in Ukraine.
Comments
comments