The EU will provide Ukraine bezviz immediately after the adoption of the mechanism of suspension – Poroshenko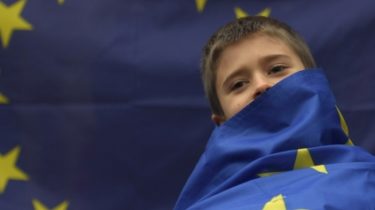 The EU will provide Ukraine bezviz immediately after the adoption of the mechanism of suspension – Poroshenko
© Reuters
The President is confident that the majority of MEPs support Ukraine.
The European Union will provide Ukraine visa-free regime immediately after the adoption of the mechanism of suspension.
The President Petro Poroshenko said at a joint press conference with NATO Secretary General Jens Stoltenberg, reports UNIAN.
"Ukraine has a solid support of a large majority of MEPs, and today, immediately after the decision of mechanism to suspend visa-free regime, we have no doubt that this decision will be immediately accepted," he said.
Poroshenko said that during a meeting at the summit of the European people's party, he was convinced that MEPs maintain close cooperation with Ukraine.
At the summit, which was attended by the President of the European Commission Jean-Claude Juncker, European Council President Donald Tusk, the leaders of the member countries of the EU, including Angela Merkel, it was noted that the need to accelerate the granting of visa-free regime for Ukraine, it is necessary to support the completion of the ratification process of the Association Agreement between Ukraine and the EU, need to provide the necessary trade preferences.
The European Parliament will not discuss visa-free regime with Ukraine
TSN. Wounds
12 Oct, 10:16
Add to favourites
It starts a week and a half. Not on the agenda and the issue of suspending the visa-free regime. This mechanism must be approved in EU before to cancel visas for Ukrainian. Earlier, the President of the European Parliament Martin Schulz said that about open the borders for Ukrainians in Brussels will speak in October.
Comments
comments