A wrongfully convicted in Russia Sentsov was transferred to solitary confinement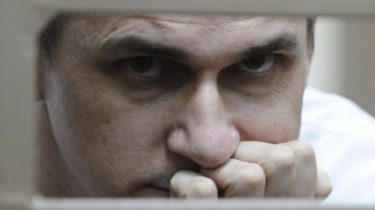 A wrongfully convicted in Russia Sentsov was transferred to solitary confinement
© Reuters
The nurse Director assumes that it can commit torture.
Illegally sentenced to 20 years imprisonment in Russia of Ukrainian Director Oleg Sentsov was transferred to a punishment cell.
About this on his page in Facebook said his sister Natalie Kaplan.
"Oleg Sentsov in the cooler. It is believed that now in the colony the green light for torture," she wrote.
As you know, Ukrainian film Director, screenwriter and Euromaidan activist Oleg Sentsov, Russian FSB detained in the night of 11 may 2014 in Simferopol and accused of preparing attacks in the Crimea, in particular, He is charged with the management of subversive and terrorist group "Right sector", which allegedly made on 14 and 18 April 2014 arson of the headquarters of the "Russian community of Crimea" and "United Russia" in Simferopol, and also prepared in the Crimean capital of explosions near the Lenin monument and the Eternal flame.
25 Aug Sentsov was sentenced to 20 years imprisonment in a strict regime colony. In turn, the Ukrainian activist Oleksandr Kolchenko, was sentenced to 10 years. During the reading of the verdict, the Ukrainians sang the national anthem of Ukraine. 24 November 2015, the Supreme court ruled to leave the verdict to the Ukrainian Director Oleg Sentsov and Kolchenko unchanged.
Note that, recently, Russia refused to transfer Ukrainian Director Sentsov, arguing that the fact that the man had received Russian citizenship.
Comments
comments