In the "DNR" has already found a replacement killed "Motorola"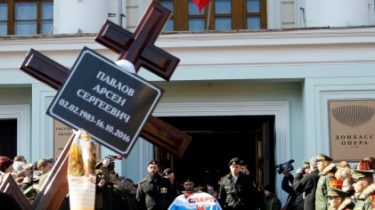 In the "DNR" has already found a replacement killed "Motorola"
© Reuters
The new commander said the battalion will continue to perform their tasks.
In the so-called "DNR" have already decided that the leader of the gang of militants "Sparta", which was led by Motorola, will be his Deputy with the call sign "Vaughan".
He will perform the duties of the battalion commander, reports RIA Novosti.
"It will be me, his first Deputy. It ("Motorola" – ed.) always I was represented by the Deputy, therefore, unanimously decided that his case will continue all together, but under my leadership," he said, answering the question of who will take the place of a dead insurgent.
"We are going to do what he did, our battalion will be engaged in combat training, to do damage to the enemy," added "Vaughan".
The militant also said that the perpetrators of the death of "Motorola" would be punished.
"There are many versions, guessing can be long… But all the time, every person will answer for their actions. Those who did… there will come a day of reckoning. Albeit not much happy for having done it. There is a God, he sees everything," said Vaughan.
We will remind that one of leaders of fighters of "DNR", the leader of the gang "Sparta" Arseny Pavlov, nicknamed "Motorola" was killed on the evening of 16 October. It blew up in the Elevator of the house where he lived. In the group "DNR" in the murder of Pavlov blamed "Ukrainian sabotage-reconnaissance group". Motorola was one of the most cruel militants "DNR".
In particular, he shot the prisoner Ukrainian military Igor Branovitskiy. Pavlov himself admitted the killing of 15 captured soldiers of the Armed forces of Ukraine. In Ukraine he was declared wanted.
Comments
comments