Lutsenko said, when the GPU is going to transfer in court business of Yanukovych and Co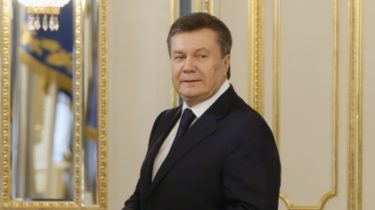 Lutsenko said, when the GPU is going to transfer in court business of Yanukovych and Co
© Getty Images
According to the public Prosecutor, the case consists of thousands of volumes.
The case of Viktor Yanukovych and his associates as part of an organized group can convey to the court before the end of the year.
This was stated by the Prosecutor General of Ukraine Yuriy Lutsenko at a briefing at the National Academy of Prosecutor's office.
"My goal is very simple – before the end of this year to bring to trial the great thing Yanukovych and his criminal organization. Despite the inertia of the system, will do everything to make it happen… that it was not ever, and this year," he said.
According to Lutsenko, in particular, the GPU will give all the episodes in "the collapse of the Ukrainian army, the Ukrainian security Service, the collapse of the Ukrainian information security, the theft of selfish motives, the destruction of the country's economic security, move to the side of the enemies and the promotion of the occupation of the territory of Ukraine".
The attorney General also added that the case Yanukovych has thousands of volumes.
Separately Lutsenko commented on the statement of head of the Department of special investigations of the Prosecutor General Sergei Gorbatyuk not ready to pass indictments against Yanukovych, former interior Minister of Ukraine Vitaliy Zakharchenko, ex-head of SBU Alexander Yakimenko and others.
"I'm going to do, including organizational steps that will lead to this social set before me the task of legal method have been solved this year", – assured the head of the GPU.
We will remind, earlier, the PGO said that the activities of ex-President Viktor Yanukovych for the post was subordinated to the interests of the Russian Federation in matters relating to national security.
In turn, the Deputy Prosecutor General Yevgeny Yenin said that within two years of the reign of former Ukrainian President Viktor Yanukovych and his team stole from the state, one annual budget, which is $ 40 billion. According to Enina, during the regime of Ianculovici throughout the country was organized the criminal scheme for the theft of money. They were carried out in different fields of business, culture, education and health care.
Comments
comments