"Givi" hastily moved the girl in Transnistria and sells apartments – an associate of gunman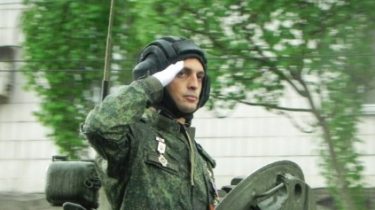 "Givi" hastily moved the girl in Transnistria and sells apartments – an associate of gunman
© vk.com/Сводки from the militia of new Russia
TMR urged to detain the deserter "Givi" who is going to escape from the Donbas.
Fighters of the unrecognized Transnistrian Moldovan Republic announced the desertion of the odious Donetsk terrorist "Givi".
Wrote about this on his page in Facebook the Colonel, the former head of the security service of the President of the PMR, head of the Regional branch of the International Union of paratroopers of Russia Valery Grata.
"My guys from TMR announced the amazing news to me – the commander of "Somalia" Misha Tolstykh (Givi) has taken his girlfriend to Transnistria, and he hastily sells his 4 apartments and garages in Donetsk and Makiivka," he said.
As noted Grata, he does not believe that "Givi" clashed with the leader "DNR" Alexander Zakharchenko and considers this information a fake.
"I am sure that there are no conflicts. But why Misha is so urgently trying to leave the territory of "Donetsk national Republic"?! It turns out that the military commander was scared of some ekroth and throws their kids in difficult times, when the enemy is sharpening his teeth on the "new Russia"!" – the Colonel added.
After this Grata called "MGB DND" to take measures for detention of the deserter".
"It sets a bad example and unworthy of other fighters. First and foremost, such actions are a disgrace to the memory of his friend, the hero of "Novorossiya" Arsen Pavlov (Motorola)" he said.
We will remind that one of leaders of fighters of "DNR" Arsene Pavlov, nicknamed "Motorola" was killed on the evening of 16 October. According to preliminary information, it blew up in the Elevator of the house where he lived. In the group "DNR" in the murder of Pavlov blamed "Ukrainian sabotage-reconnaissance group".
Motorola was one of the most cruel militants "DNR". In particular, he shot the prisoner Ukrainian military Igor Branovitskiy. Himself "Motorola" confessed to the murder of the 15 captured military personnel of the Armed forces of Ukraine. In Ukraine he was declared wanted.
Earlier, the Ukrainian hacktivists hacking groups "Cyberhunt", FalconsFlame, RUH8 and Trinity released information that militants "DNR" Arsen Pavlov, known as "Motorola," could kill the Russian special services.
Comments
comments