If Russia does not fulfill the Minsk agreement, the EU will extend and strengthen sanctions – Poroshenko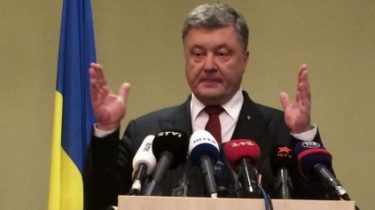 If Russia does not fulfill the Minsk agreement, the EU will extend and strengthen sanctions – Poroshenko
© Reuters
The decision on sanctions may be taken in December.
In case of default by Russia of the Minsk agreements, the European Union will extend and strengthen sanctions against Moscow.
This was stated by President of Ukraine Petro Poroshenko in an interview to Ukrainian TV channels.
According to him, after talks in "Norman format" in Berlin, he met with the leadership of the EU. "We have clearly stated that if will not be executed "Minsk" – the sanctions will definitely be and continue, and continue," – said Poroshenko.
The President noted that the Normandy four have agreed that in the near future to meet the diplomatic advisers to the leaders of Ukraine, France, Germany and Russia. No later than November there will be a meeting of foreign Ministers of the countries "Norman Quartet", which will prepare the next summit, which should be approved "road map" implementation of the Minsk agreements.
Read also: Poroshenko warned that in case of withdrawal of Ukraine from the "Minsk" will be removed from Russia sanctions
"We should be very thoroughly and carefully to insist that this be done, if this does not happen, the EU Council, which will take place in December, the leaders of the countries-EU members will have every reason to extend and strengthen sanctions," – said Poroshenko.
"We as the Ukrainian side made a very clear proposal – we will then consider the proposal to extend the sanctions (against Russia) is not for six months, and the entire 2017. Now this issue is being discussed among member countries of the EU," he said.
What ended for Ukraine talks the leaders of "Norman Quartet" in Berlin
TSN. Week
Yesterday, 19:57
Add to favourites
First last year the meeting of Poroshenko, Putin, Merkel and Hollande and long conversations in the so-called "Norman format." The problem is that each of them came to Berlin with his secret plan. Someone who leant the night in this diplomatic battle, refer to the material TSN.
Comments
comments