Poroshenko commented on media reports that he yelled at Putin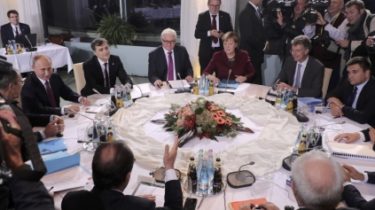 Poroshenko commented on media reports that he yelled at Putin
© Reuters
The President confirmed that he had asked the Russian leader to stop shooting.
The President of Ukraine Petro Poroshenko claims that he did not raise his voice to Russian President Vladimir Putin during the talks, "Norman Quartet" in Berlin.
He told about it in interview to the Ukrainian TV channels.
"No, I during the talks the voice is never raised. But please stop shooting… Really I turned to Putin with this request," – said Poroshenko.
The Ukrainian head of state noted that the talks in the Normandy format lasted for 6-7 hours, and before that he had a meeting with German Chancellor Angela Merkel, and then almost an hour-long meeting with Merkel and French President Francois Hollande.
See also: Agreed to negotiate. Results and predictions about the fate of Donbass after the Normandy meeting
Recall, Agency ЛІГА.net with reference to the members of the Ukrainian delegation at the talks "channel four" reported that the President of Ukraine Petro Poroshenko had to raise the voice of Russian President Vladimir Putin.
During one of the debates seems to be Poroshenko told Putin: "you Know, for anybody not a secret, how much your arms and troops in the occupied territories of Donbass. Why are we here? So you stopped firing…". At this point, the Russian President tried to kill Poroshenko's remark on the need to implement the political part of Minsk. Then the Ukrainian President raised his voice: "No, you just stop shooting!".
Petro Poroshenko told about the arrangements "Norman Quartet"
Policy
Yesterday, 23:15
Add to favourites
President of Ukraine Petro Poroshenko gave interview to Ukrainian TV channels, including "1+1". The Ukrainian head of state told about the arrangements "channel four" called unacceptable alternative to the Minsk agreements and explained why debaltseve must be demilitarized.
What ended for Ukraine talks the leaders of "Norman Quartet" in Berlin
TSN. Week
Yesterday, 19:57
Add to favourites
First last year the meeting of Poroshenko, Putin, Merkel and Hollande and long conversations in the so-called "Norman format." The problem is that each of them came to Berlin with his secret plan. Someone who leant the night in this diplomatic battle, refer to the material TSN.
Comments
comments