The owner of the bankrupt Bank "Michael" owed to creditors 23 billion hryvnia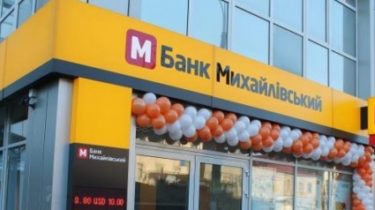 The owner of the bankrupt Bank "Michael" owed to creditors 23 billion hryvnia
© wikimapia.org
Polishchuk also owns the shopping center "Gulliver", hypermarket "Eldorado", the insurance company and residential complexes.
The owner of a bankrupt commercial Bank "Michael" Victor Polishchuk owes Ukrainian banks UAH 23 bn. Among these loans – loans by 1.3 billion UAH, issued by his own Bank "St. Michael".
Most Bank loans, he does not return for two years. Time serviced by only 0.1% (excluding accrued but not paid income of more than 3 months). About it reports a press-service of the national Bank, which launched the social media campaign against Polischuk.
See also: Daring scheme of fraud. Of the failed Bank as of "Michael" disappeared deposits
His sphere of interests also includes the enterprises of retail and real estate. He is the largest owner of network of hypermarkets "Eldorado", the insurance company "Forte", shopping center "Gulliver" LCD "Green quarter" and "Forest quarter".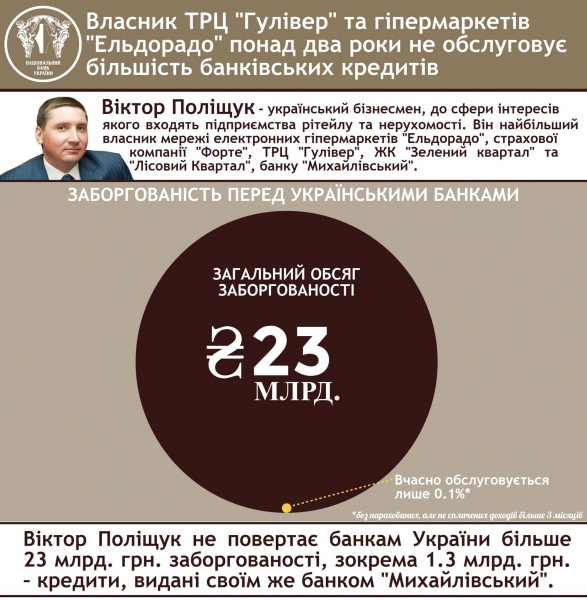 The national Bank of Ukraine
The scandal of the failed Bank on "Michael": the new facts
Classified material
3 Oct, 13:13
Add to favourites
The scandal of the failed Bank on "Michael" continues to gain momentum. Investors staged rallies near the Kyiv municipal state administration and the Cabinet of Ministers picketing the national Bank, the presidential Administration and the guarantee Fund of depositors. They closely monitor all ship meetings, clinging to every opportunity to get their money back. A recent protest took place in the courtroom, where the lawyers of the convicted former Chairman of the Board Igor Doroshenko wanted to change the measure of restraint.
Comments
comments