Online video horrible giant spider with a dead mouse became viral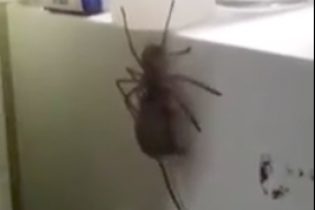 Online video horrible giant spider with a dead mouse became viral
© Facebook.com/jason.womal
Video seriously scared of Internet users.
In a Network there was video horrible giant spider with a dead mouse.
A video posted to Facebook Aussie Jason Woman in your Facebook account.
For two days the video attracted more than 10 million views and seriously scared of Internet users.
Woman told the review that he decided to leave the spider and named it Hermie.
Video of a giant spider carries a dead mouse.
See photos: In Australia, the town was in "cocoon" with millions of spiders
We will remind that earlier in the UK 22-year-old Declan king bought in the supermarket packaging of bananas, which suddenly found a hundred spiders. According to him, the sellers in the supermarket were not concerned that their products have these small predators. They didn't even check the other packages.
Comments
comments