Bloody accident in Kiev: on a busy Avenue, the man moved several cars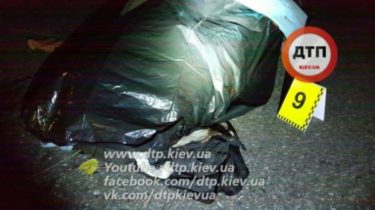 Bloody accident in Kiev: on a busy Avenue, the man moved several cars
Kiev
Today, 10:17
1 of 9

© dtp.kiev.ua

1 of 9

© dtp.kiev.ua

1 of 9

© dtp.kiev.ua

1 of 9

© dtp.kiev.ua

1 of 9

© dtp.kiev.ua

1 of 9

© dtp.kiev.ua

1 of 9

© dtp.kiev.ua

1 of 9

© dtp.kiev.ua

1 of 9

© dtp.kiev.ua
© dtp.kiev.ua

© dtp.kiev.ua

© dtp.kiev.ua

© dtp.kiev.ua

© dtp.kiev.ua

© dtp.kiev.ua

© dtp.kiev.ua

© dtp.kiev.ua

© dtp.kiev.ua
A pedestrian suddenly ran into the road in front of cars.
In Kiev Bandera Avenue there was a terrible accident, during which a man died.
It is reported dtp.kiev.ua.
As noted, approximately at 23:30 near the gas station WOG pedestrian suddenly rushed into the traffic.
"Several cars ran over the body and went to troieschyna. Only stopped the Chevrolet, which threw the victim after the first blow of the grey SUV", – stated in the message.
According to eyewitnesses, the ambulance arrived in a few minutes, but the pedestrian died instantly.
We will remind, earlier a fatal accident has happened in Kyiv: the driver of the car lost control and flew into an oncoming bus. In the accident it killed three people.
Comments
comments