Each Lutsenko bought the apartment of his scandalous bookkeeper – media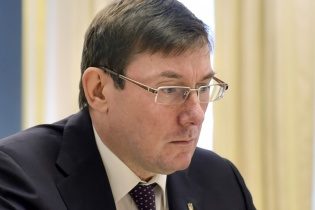 Each Lutsenko bought the apartment of his scandalous bookkeeper – media
© The website of the President of Ukraine
The people's Deputy of zagori is the owner of the pharmaceutical company "Darnitsa" and considers himself a friend of Lutsenko.
On October 17 the people's Deputy from "Blok Petro Poroshenko" Gleb zagoriy bought the 8 rooms at Svetlana Ryzhenko, the former business partner of the family of the Prosecutor General Yuri Lutsenko.
This is reported by "Nashi Groshi," citing data from real estate register.
In particular, we are talking about 7 apartments and one non-residential premises in the house on the street Esplanaden. In September of this year, the house was sold for 5.3 million dollars.
In a publication extracts as of September 7, according to which the owner of this property was Svetlana Ryzhenko, 67-year-old woman who lives in the village zazimya, Kyiv region.
These premises were leased to LLC "Business centre "LOTOS", which is owned by Oleksandr Lutsenko – the son of the attorney General. Earlier edition recorded an interview with Svetlana Ryzhenko, in which a woman confirmed that owns the apartments on the Esplanade.
Ryzhenko purchased the property at the cave in 2009. In an interview she was unable to convincingly explain where I got the money to buy. Ryzhenko told that he was the accountant of LLC "Ukrainian newest telecommunications", which belonged to the family of Lutsenko, and before that worked in the Antimonopoly Committee, which then also included the wife of the current attorney General Irina Lutsenko.
According to the publication, Gleb zagoriy is the owner of a pharmaceutical company "Darnitsa" and considers himself a friend of Yuri Lutsenko.
See also: Lutsenko responded to the statement Leshchenko on the ownership of the mansion in the center of Kiev
We will remind, on Sunday, October 23, on channel 5 there was an interview in which the MP from the PPO Sergey Leshchenko said on the ownership of real estate Lutsenko in Kyiv. According to him, the attorney General issued a house on the accountant of his wife.
Comments
comments