Groysman called the start date for a major reform of the customs service of Ukraine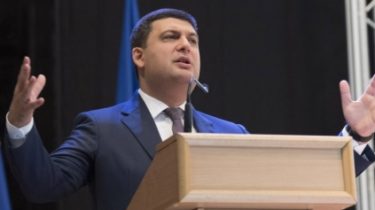 Groysman called the start date for a major reform of the customs service of Ukraine
© UNIAN
The Prime Minister said that Ukraine needs serious and systemic changes in customs.
The government intends to start a large-scale customs reform in Ukraine on 1 January 2017.
This was stated by Prime Minister of Ukraine Volodymyr Groisman.
"We are soon going to make proposals at the National Council of reforms relating to the approval of the strategy for the reform of the Ukrainian customs. We would like to scale this process began with the 1 January 2017", – said the Prime Minister.
Groisman noted that the customs service from August of the current year shows a positive trend for increasing State revenues (additional revenues amounted to 1.2 billion UAH.) but, in his opinion, this is not enough.
"We need a serious, systematic, large-scale changes," – said the Prime Minister.
Volodymyr Groysman stressed the importance of reform of the customs service of Ukraine as a "gray import and smuggling destroys the economic opportunities of the state, do not allow Ukrainian businesses to become competitive" and hindered the development of the national economy.
Comments
comments