In Kiev, an applause spent in the last path of the famous actress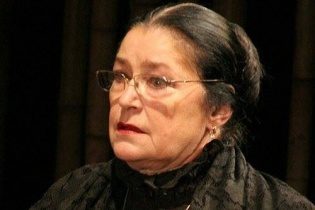 In Kiev, an applause spent in the last path of the famous actress
© Facebook/the Theatre named after Lesya Ukrainka
With Valeria Zaklunnaya said goodbye to their home theater.
In the theatre named after Lesya Ukrainka parted with actress Valeria Zaklunnaya. She worked there for more than half a century, says the story TSN.16:45.
Zaklunnaya was seriously ill the last few years. On the stage last reached in may. In September, rehearsed the play for the anniversary of the theater, but to play in it and could not – the show was without her, the day before her death. Only the actress played in more than forty plays and three dozen films, in particular, she is remembered for her role as mistress of Hunchback in the movie "meeting Place cannot be changed".
Colleagues and the audience filled the hall of the theatre of red roses. Spent Zaclonou applause that did not abate and on the street.
In the theatre named after Lesya Ukrainka with red roses and the applause said goodbye with Valeria Zaklunnaya
TSN. 16:45
Today, 18:27
Add to favourites
Actress over 50 years he worked in the Theater named after Lesya Ukrainka. Played in 40 plays and more than three dozen Soviet films – "Siberian", "earthly Love", "Till the end". Most of all I remember the audience in the role of a femme fatale in a red – mistress Humped in the TV series "the meeting Place cannot be changed". Valerie Zaklunnaya was 74 years old.
Comments
comments