"I don't bargain", – Groysman on the transfer with the NBU 38 billion hryvnia in the state budget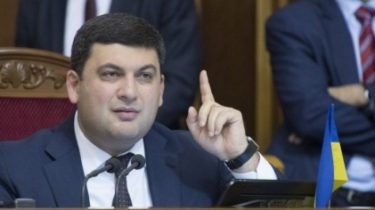 "I don't bargain", – Groysman on the transfer with the NBU 38 billion hryvnia in the state budget
© UNIAN
The Prime Minister is convinced that the transfer of significant funds will not affect the stability of the hryvnia on the currency market.
Until the end of 2016 the national Bank of Ukraine shall transfer to the state budget of 38 billion hryvnia profits. Prime Minister Vladimir Groisman says that it will not affect the hryvnia exchange rate in the foreign exchange market and the dollar does not significantly increase.
The head of government said in the program "Svoboda words" on ICTV.
"In 2016, the NBU transferred to the state budget of 38 billion UAH. We believe that 41 billion next year if economic growth is absolutely real," – said Groisman.
So far, the NBU has not transferred the funds, he will be able to do after the newly formed Council of the national Bank approves the report of the regulator in 2015. The powers of the previous Board of the national Bank ended a year ago and only yesterday, 24 October, Ukrainian President Petro Poroshenko has announced this on two members under its quota. Although the need to appoint two more. The first meeting of the NBU Council is to be held today, October 25.
"It was a technical and legal reasons (failure to transfer funds to the budget of NBU) on the formation of a necessary organ (of the NBU Council), which approves the report of the National Bank," reminded the Prime Minister.
Also read: Gontareva told about economic forecasts and what are the positive of the "bursting" of the banks
Groysman denied that the transfer of funds from the NBU is a definite pressure on his government.
"I never traded. I can only talk about the fact that we had a completely different approach to solving issues within the country. But no pressure on me from the administration of President – it's all rumors, do not believe them, this chatter," said Groisman.
The Prime Minister says that "the hryvnia is not exactly crawl (after the transfer of funds in the budget). We have enough reserves today. We have economic growth and stabilization. The course lay the next budget 27.2 hryvnia to the dollar. And this is the rate projected for next year."
Comments
comments